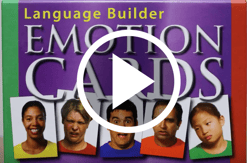 Watch our Emotion Cards in Action!
The Language Builder Emotion Cards set features a range of actors from 1 to 70 years old, and from a variety of ethnic and cultural backgrounds. Half the images are taken against a plain background, showing only the upper body and face. The remaining 40 cards portray people in realistic emotion-provoking situations and activities taken in natural settings and contexts. This educational card set helps children identify and discuss feelings as well as possible appropriate and inappropriate responses to these feelings.
 See the Video!
Autism in the News:
Neurodiversity: the benefits of recruiting employees with cognitive disabilities
Harvard Business School, July 11.
Employers are increasingly finding fresh ideas and insights by recruiting workers with Autism Spectrum Disorder and other cognitive disabilities. Read More ...
Paths to Autism: One or Many? Answers from a new study in Biological Psychiatry
EurekAlert, July 19.
A new report in Biological Psychiatry reports that brain alterations in infants at risk for autism may be widespread and affect multiple systems, in contrast to the widely held assumption of impairment specifically in social brain networks. Read More ...